Click this LINK to find the great resources that have been tailored for the home environment by the staff at Ardwhallan OEC
Click this LINK to go to activities and videos from Culture Vannin about the Island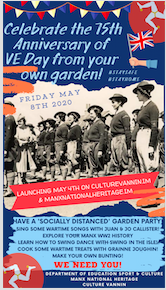 Please see the latest newsletter update for 22/5/20
April 2020
Dear Parents
I hope this finds you well in every way. If you are having to isolate then I wish you a speedy and trouble-free recovery.
I trust that you have been able to find, and adjust to, a new normal, finding a balance that works for you. Although sustaining an appropriate level of learning / thinking is important to maintaining healthy brain development, we recognise that this input may not look the same in every household and it is important that the learning ideas that we have provided do not cause any anxiety or even impact negatively on family relationships during these exceptional times. You know what you can reasonably expect from yourself and your child during these unusual times.
If you have not yet accessed the support guidance for wellbeing on the school's website I would strongly recommend doing so via the links below.
Take care, stay safe, talk with others and ask for help.
We are listening and Ballaugh School is still here for you and your family.
Please take a couple of minutes to take part in our feedback survey which can be found here (this link has been removed, please refer to email 16/4/20). The information will help us to develop our support and partnership.

Graeme Cushnie

Headteacher
Ballaugh School
Are you using ZOOM to interact with multiple people online? Here is the latest guidance to keep you, and your children, safer in this environment.
We will update this page as often as possible but please be aware that our staff will at times be re-deployed away from Ballaugh to support the "hub" schools that remain open. If you have any questions, please email BallaughEnquiries@sch.im and someone will get back to you as soon as we can given the current situation.
It would be 'best practice" to have a look at any site first incase it has been compromised by others.

We continue to have everyone's health and well being at the forefront of our minds and trust that this site offers some ways to continue to consolidate, challenge and stretch thinking.
If you would like to teach your child about staying safe online then you may wish to use this great resource from SaferSchools who also developed our SaferSchools app.
The older children (Class 3 and Class 4) that are more accustomed to using the online learning platforms (IT's Learning and Google Docs) can continue to communicate with their teacher about their learning that has been posted on this website. Any log in issues should be reported to BallaughEnquiries@sch.im where I will try to get them sorted as soon as possible.

Here's some other ideas too

100 Challenge Ideas for Home Learners
Here is a link to a site provided by one of our community full of interesting activities. Thanks for creating this and allowing us to share. (credit to the North Queensferry Support Group). There is some really great stuff on there. It's worth checking out.